/ Flight Light Inc.
Obstruction Lighting & Aircraft Warning Lights – FAQ
Obstruction Lights Explained
What is an obstruction light, what's the meaning of the term?
An obstruction light, or aircraft warning light, is a light specifically designed to illuminate tall buildings, high-rise structures, and any other objects that may interfere with air traffic.
What is the purpose of obstruction lighting?
The lights are designed with a special purpose – to prevent accidents. Safely and clearly marking potential obstructions helps pilots avoid them. The goal is to eliminate air traffic accidents by alerting pilots to potential danger.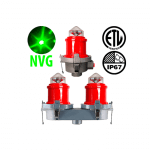 Are aircraft warning lights and obstruction lights the same thing?
Yes – aircraft warning lights and obstruction lights the same thing. These terms can be used interchangeably and are used differently depending on location.
FAA/ICAO Compliant Aircraft Warning Lights
Do you sell FAA and ICAO compliant obstruction lights?
Yes. We have a wide variety of FAA and ICAO compliant obstruction lighting solutions. We manufacture and supply LED obstruction lights, solar powered obstruction lights, red and white obstructions beacons, and more. Visit our online airfield lighting store for pricing, availability, order tracking and more.
L-810 LED Steady-Burning Red Obstruction Light from Flight Light Inc.
Do you sell complete LED and solar obstruction lighting systems?
Yes. We sell complete LED aircraft warning light systems – including solar powered systems. We can also help you setup a custom system with warning lights, controllers, accessories and more. Call us today and we'll consult with you on proper guidelines and product selection.
Do you offer a IP67 water-resistant obstruction light?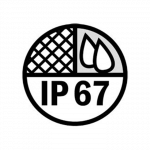 Yes. This fixture is ideal for offshore applications, wetter climates, and high humidity areas. Flight Light offers a uniquely design and certified IP67 waterproof obstruction light for unmatched performance and reliability in all weather conditions.
Our water-resistant L-810 design exceeds current FAA/ICAO requirements. Accordingly, this fixture is considered to be one of the highest quality obstruction lights on the market.
Buying Obstruction Lights Online
What is a typical price for an obstruction light or a complete beacon lighting system?
Pricing depends on accessories, make, and model. We can provide prices and lead times, simply request a quote, live chat with us, or contact us today. If you need pricing and availability right away, visit our online obstruction lighting store.

What are some of your most popular obstruction lighting products?
Flightlight.com displays a complete listing of our obstruction lighting solutions. A smaller selection of aircraft warning lights can be found in our online store.
Popular products include:
What are some common accessories and replacement parts used for aircraft warning lights?
We supply a controllers and a variety of common accessories and replacement parts. Typically with obstruction lights, you'll need to replace an incandescent lamp or an entire LED head assembly.
Commonly ordered products include: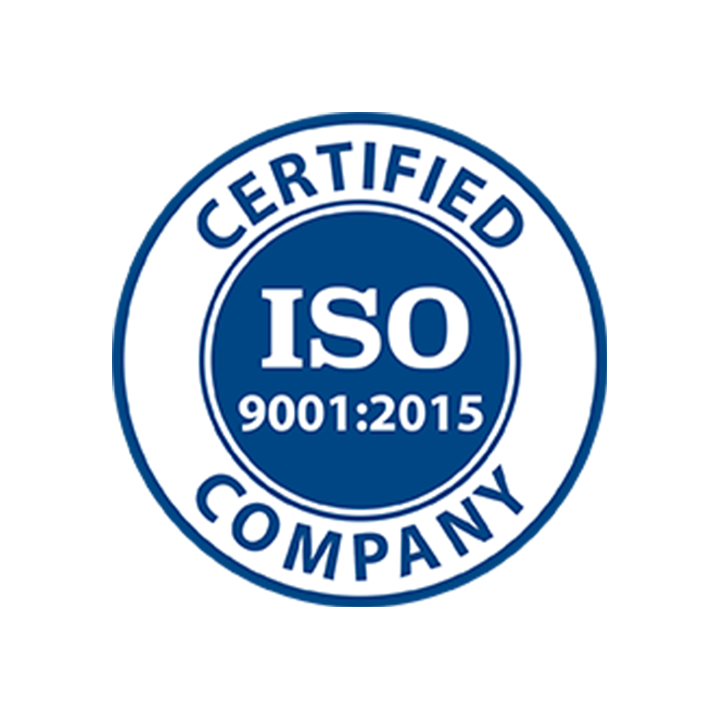 Why should I buy from Flight Light?
Flight Light has been supplying high-quality and cost-effective airfield obstruction lighting since 1993. We are an FAA-certified and ISO 9001:2015-registered manufacturer. Our airfield lighting solutions meet or even exceed FAA and ICAO specifications. We're here to assist with commercial, private, and military projects around the world. Contact us today with any airfield lighting questions you might have.
FAA/ICAO Standards & Regulations
What are the FAA or ICAO standards for using obstruction lighting solutions?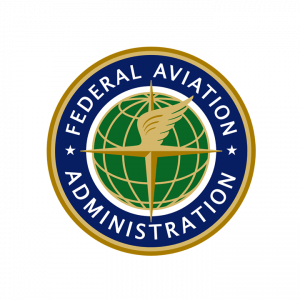 In the US, the FAA regulates the standards and in Europe it's the ICAO. The FAA determines the federal standard for requirement in the US. Different states across the US may have additional or various requirements. Around the world, different countries may have their own regulations. The ICAO is the foremost international authority for air navigation.
Be sure to reference current standards to determine proper use. Search the entire FAA Advisory Circular database to find the latest, up-to-date standards.
When are aircraft warning lights needed?
Different standards are used to determine obstruction lighting requirements based on structure height, etc. A number of FAA standards can be found on a number of topics.
Advisory Circular AC No. 70/7460-1
Obstruction Marking and Lighting
Advisory Circular AC No. 150/5345-43
Specifications for Obstruction Lighting equipment
Advisory Circular AC No. 15-/5345-53
Airport Lighting Equipment Certification Program
At what height are aircraft warning lights required?
The FAA requires aircraft warning lights on temporary and permanent structures above 200 ft. (61 m) to prevent accidents. The type of light will depend on the height and category of the building. If the structure is on a flight path or near an aerodrome, that is also a factor.
Aircraft Warning Light Applications
Where are obstruction lights placed?
Typically, the lights are mounted at the very top of any obstruction. Marking the highest point helps pilots see and avoid the obstruction.
What are some common applications for aircraft warning lights?
All structures that occupy airspace need to be lighted as an obstruction to aircraft. That includes skyscrapers, cell towers, bridges, and more.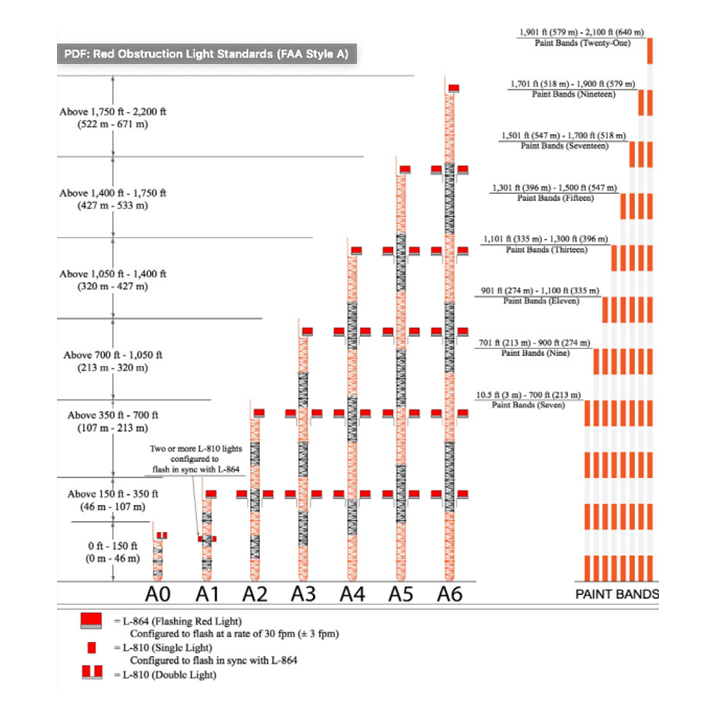 Typical obstruction lighting applications:
Towers, Poles, Antenna, Skeletal Structures
Chimneys, Flare Stacks, Smoke Stacks
Buildings, Bridges, Prominent Obstructions
Radio, Television, Broadcasting, Cell Towers
Onshore or Offshore Wind Turbines
Cranes, Drills, Construction Equipment
Oil Refineries, Power Plants, Hyperbolic Cooling Towers
Water Towers, Storage Tanks, Similar Structures
Power Lines, Transmission Lines, Telecommunication Towers
Offshore Oil & Gas Platforms, Lighthouses
Meteorological (MET) Towers, Wind Measurement Towers
What are the different kinds of obstruction lights?
Typically, we sell solar or hard wired, LED or incandescent, standard lighting or night vision compatible solutions. However, according to the FAA there are three main types of obstruction lighting:
Low Intensity
Medium Intensity
High Intensity
The ICAO identifies goes beyond that breakdown by identifying subtypes within each main category:
Low Intensity Obstruction Lights

Type A
Type B
Type C
Type D

Medium Intensity Obstruction Lights
High Intensity Obstruction Lights
Obstruction Lighting Basics
How do LED aircraft warning lights work?
Incandescent filament bulbs were used as a light source for many years. Unfortunately, these traditional lightbulbs have a relatively short lifespan and need frequent replacement.
Recently, LEDs (light emitting diode) have largely replaced incandescent light bulbs in modern lighting applications.
With the advent of LED lighting, new arrays of high-power LEDs are being developed. Advancements in lighting technology applied to obstruction lights have reduced maintenance and replacement.
LED aircraft warning lights cost less, deliver extend performance, and reduce energy consumption costs over its long lifetime.
Flight Light offers a range of innovative – and cost effective – LED lighting products including solar-powered obstruction lights and night-vision compatible LED warning light solutions.
What color lights are used for obstruction lighting?
Typically red and white lights are used to warn aircraft. The red, low-intensity, steady-burning light is the most common type.
Medium intensity warning lights can be red, white or dual (both red and white).
White high intensity flashing beacon is also used on the tallest structures.
Why are some aircraft warning lights red and white?
Commonly, white high-intensity strobes are used during the daytime, and red lights at night. That's because in urban areas white lights can easily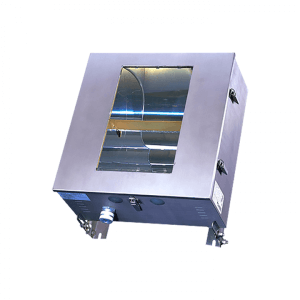 blend into the background – especially at nighttime.
This blending effect can make it difficult for pilots to differentiate between aircraft warning lights and street lighting. For that reason, red lighting is used to help pilots recognize an obstruction in their airspace.
On the very tallest structures, that blending is no longer an issue, so white high-intensity strobes be used and are typically are installed.
Where can I buy aircraft warning lights for sale online?
Shop our store for some – not all – of our most popular obstruction lighting products. Visit FlightLight.com if you'd like to see the full selection of our obstruction lighting and aircraft warning light solutions. If you don't see what you need there, please reach out to our Sales team or contact us today.