This product is available in our webstore – Shop Now

Compliance and Applications
FAA AC: 150/5345-43J
ETL Certified L-810
ICAO Annex 14, Vol. 1, Type B
Flight Light L-810 obstruction lights are used on buildings, antennas, towers, cranes, and any other kind of obstacle which occupies airspace. Each fixture includes a glass Fresnel globe which is colored red for most applications. The fixtures are either a single or a double lamp housing and made with 3/4″ or 1″ internally threaded housing. A side-mounted option is also available. These obstruction lights operate on a 120V or 230V circuit. The fixture includes an incandescent 116W, A21 medium screw base lamp.
Features
• The only FAA certified L-810 incandescent red obstruction light produced in the world.
• Night Vision Goggle (NVG) friendly, NVIS compatible for military, police, and EMS applications.
• Die cast aluminum with aviation yellow powder coat finish and stainless steel hardware.
• Direct installation into existing voltage power circuit.
• Direct mounting to conduit, bottom or side mounting options available.
• Standard configurations come with 3/4″ threaded fittings.
• Photocell option for automatic activation at night.
Ordering Codes
Fixture
Color
Power
Fixture Style
Mounting
Options
FL-810
R: Red
AC1: 120VAC[1]
AC2: 230VAC[2]
S: Single
D: Double
34B: 3/4″ Hub – Bottom
10B: 1″ Hub – Bottom
34S: 3/4″ Hub – Side
10S: 1″ Hub – Side
FF: Floor Flange
LSM: Low Surface Mount[3]
PM: 2″ Pole Mount
P: Photocell (81020 Series)
T: Transfer Relay
MT: Marine Treated
R: Red Casting
[1] FAA Approved: 120VAC, red globe, 116W lamp #32B. [2] Not FAA Approved. [3] For single option only.
Shipping Weight: (Single): 4.5 lb./2 kilo., Volume: 0.5 cu. Feet/0.01 cu. Meters; (Double): 10 lb./4.5 kilo., Volume: 1 cu. Feet/0.02 cu. Meters.
Replacement Parts
Part Number
Description
13-861R-T
Red globe with tether
61-80001*
Clamp band
61-80004
Medium base socket
LA-22483-2
116W, 120V lamp
LA-116W/230V
116W, 230V lamp
61-80002
O-ring
* Clamp band only compatible with Flight Light fixtures.
---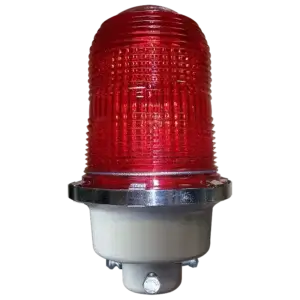 Marine Treated Option
• Recommended for harsh, high-salt coastal and marine environments.
• Protects fixture finish from salt damage and prevents corrosion.
• 3-Step Powder Coat: 1) Primer, 2) Epoxy powder base coat and glossy polyester gray (RAL 7030) powder finish coat, 3) Oven curing.
---
Obstruction Lighting Controls
Lighting controls are designed for use when multiple obstruction light fixtures are to be controlled with common electronics or when alarms or transfer relay circuits must be switched remotely from the fixture. The electronic control module comes in a cast iron device box with threaded hubs on both top and bottom. Replacement modules (controls without device box) are also available upon request.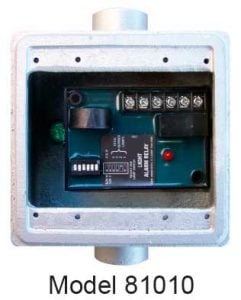 Lamp Alarm/Transfer Relays
Model 81010: 120VAC lamp alarm or transfer relay module. Monitors current for one to four 116W fixtures or one L-864 fixture with two 620W lamps. If any fixtures are detected out, 120VAC (1A) output and a 10A isolated relay (SPDT) are activated. Can be used as a transfer relay with isolated alarm for double obstruction fixtures with one primary and one standby lamp. For Buzzer option, add '-B' to model number.
Model 81011: 120VAC lamp alarm for two to nine steady-burning, incandescent lamps. Monitors current for two to nine 116W fixtures. If any fixtures are detected out, 120VAC (1A) output and 10A isolated relay (SPDT) are activated.
---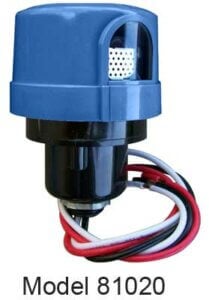 Photocells
Model 81020: 105-305VAC, 1000W photocell. FAA style photocells activate at 35 ft-cd and turn off at 52 ft-cd. Instant ON photocell has 3-5 second time delay that prevents activation and de-activation from momentary light conditions. Does not come with device box, includes 1/2″ threaded male fitting.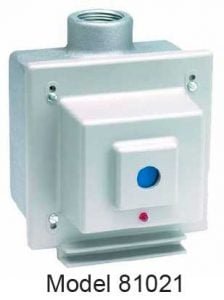 Model 81021: 120VAC, 4800W photocell. Meets FAA/FCC requirements for obstruction lighting. Energized at 35 ft-cd and de-energized at 60 ft-cd. Time delay eliminates contact chatter. Contains dual 20A load contacts. Front plastic housing mounts to cast aluminum junction box (included).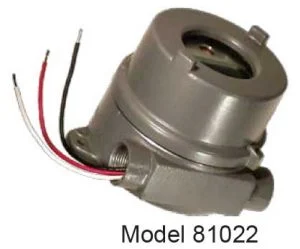 Model 81022: Hazardous Location Photocontrol Unit. Outdoor lighting control for exterior lighting in hazardous locations: explosion proof, dust-ignition proof, and weatherproof. Nominal Voltage 50/60 Hz: 120/208/240/277. Voltage Range: 105-305. Housing: sand cast copper-free aluminum – epoxy powder coated.
Ordering Codes: Obstruction Lighting Controls
| Part Number | Description |
| --- | --- |
| FL-81010 | 1-4 Lamp Alarm/Transfer Relay (Buzzer option '-B') |
| FL-81011 | 2-9 Lamp Alarm (steady-burning incandescent) |
| FL-81020 | Photocell only (105-305VAC, 1000W max) |
| FL-81021 | Photocell with aluminum box (120VAC, 4800W max) |
| FL-81022 | Hazardous Location Photocontrol Unit |