This product is available in our webstore – Shop Now

L-807 & L-807(L) Wind Cone
Compliance
FAA: L-807 AC 150/5345-27 (Current Edition)
FAA Engineering Brief 67
ETL Certified
ICAO: Annex 14, Vol. 1, para. 5.1.1 (Size 2 only)
Applications
Provides visual indication of wind direction and velocity at a location on an airfield. FAA Size 2 wind cones are used at the central location on the airfield. FAA Size 1 wind cones are used on smaller airfields and heliports.
Key Specifications
• Available externally lighted, internally lighted, or unlighted.
• LED or halogen lamps.
• All LED models feature:
– 50,000 to 100,000 hour lamp life, virtually maintenance free. 4 year warranty on lamps.
– Multiple lamp circuits, for improved reliability.
– 80-90% less power consumption than halogen lamps.
– A long-life LED obstruction light.
– Integral power-adapter on series-circuit models.
• An incandescent L-810 obstruction light is included on halogen lighted models.
• Size 1 (18″ x 8′ long) or Size 2 (36″ x 12′ long) wind socks.
• The pole is center-hinged, with 4″ diameter steel on the bottom, and 3″ diameter steel on the top.
• A center-mounted braked winch allows 1-person maintenance.
• The four anchor bolts are a one-piece welded assembly, ready to drop in the ground.
• The aluminum basket is welded, one piece, with pre-installed bearings.
• Raincaps protect the bearings from weather.
• The nylon sock is treated for rot, mildew and water repellency.
• Powder coat painted international orange.
• Marine Treated Option available for increased useful life in corrosive environments.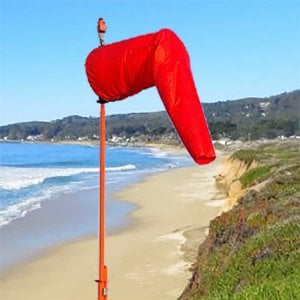 Marine Treated Option
Recommended for high salt and other corrosive environments. Includes: marine treated powder coat, stainless steel hardware throughout.
Ordering Code
Options & Spare Components
| Part Number | Description |
| --- | --- |
| L807 Marine Treated | "Marine Treated" (recommended for corrosive environments, typically within 100 miles of saltwater). Includes: marine treated powder coat, stainless steel hardware throughout. |
| WS-AS1896 | Spare Wind Sock (18″ dia. x 8 ft) |
| WS-AS3612 | Spare Wind Sock (36″ dia. x 12 ft) |
| LA-22483-2 | Lamp, 120V Incandescent Obstruction Light |
---
WCH Series Wind Cone Solar Power Supply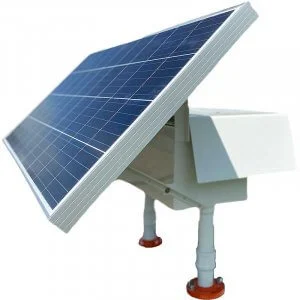 Applications
The Solar Power Supply (SPS) is a self-contained photovoltaic power source for the WCH Series L-806 and L-807 wind cones.
Features
• Eliminates expensive underground trenching and wire installations for wind cones
• Easy installation: pre-set solar angle, pre-assembled anchor for easy mounting
• Fully sunlight powered, zero energy cost operation
• 10 day nominal battery autonomy
• Long life premium AGM solar batteries (5-10 years expectancy)
• 100 to 300 A-H AGM battery, designed for 4000 charge/discharge cycles
• 100 or 200 watt solar panel, with 12-year/90% and 25-year/80% power warranty
• Custom designed for the installation site, using 30-year worst case insolation and temperature extremes
• Insulated battery compartment to preserve battery life
• MPPT charge controller, with custom-programmed temperature compensation
• On-board indicators for battery, charging and system status
• Dual-post mount, with frangible couplings, designed to withstand ASCE Exposure C wind loads
• Temperature range: -49 to +131 °F (-45 to +55 °C)
• Marine treated option available for corrosive environments (upgrades enclosure to aluminum, stainless hardware throughout, marine treated powder coat)
• Manufactured in the USA
Installation Information
The SPS is attached to a 4-bolt anchor assembly (included), mounted in a concrete slab. Power is supplied to the wind cone by a cable in liquid-tight conduit through one of the SPS mounting legs.
Ordering Information
Replacement Parts
| Part Number | Description |
| --- | --- |
| WCH-7800-0004 | Solar Panel, 100 Watt |
| WCH-7800-0005 | Solar Panel, 200 Watt |
| WCH-1300-0081 | Battery, PVX-840T |
| WCH-4500-0020 | Charge Controller |
| WCH-7800-0006 | Photocell |
| WCH-1800-0036 | Frangible Coupling |
| WCH-2300-0024 | Fuse, 10A 32V |
Shipping Information
• Unpackaged Weight: 186-268 lb.
• Shipping Weight: 266-388 lb.
• International Shipping Weight: 466-588 lb.
• Shipping Volume: 60″L x 40″W x 44″H
Can be shipped with wind cone in same crate.