This product is available in our webstore – Shop Now

Compliance and Applications
• ETL Certified L-810: FAA AC 150/5345-43J; EB-67D
• IP67 Certified
• Certified FCC 47 CFR, Part 15:2020, §15.107 and §15.109, Class A
Compliant to:
• ICAO Annex 14, Low Intensity Obstacle Light, Type B
• DGAC of Mexico
• MIL-C-7989
Our Night Vision Compatible, omni-directional, red, steady-burning, LED obstruction light is designed for marking tall structures such as buildings, towers, masts, cranes, meteorological towers, chimneys and other hazards to aircraft. This energy-saving LED light is a direct replacement for incandescent fixtures, providing years of reliable and maintenance-free operation. Available in single, double, and retrofit configurations; optional solar drive package.
Ordering Codes
Spare Parts
What Does NVG Friendly Mean?
Both the FAA and Transport Canada have issued safety alerts warning that common LED obstruction lights pose a hazard to pilots using Night Vision Goggles (NVGs). This is due to the fact that NVGs typically use filters to block cockpit lighting from saturating the imaging system. This has the unintended effect of making LED obstruction lights invisible to pilots.
In response, we have incorporated NVG Friendly technology into our fixture (IR 860 nm peak intensity), giving pilots using night vision goggles unmatched visibility of airfield perimeters, buildings, and towers. The L810LEDNV light is the first LED L-810 available to ensure that your structure is visible to all pilots, making it the first true LED replacement for incandescent obstruction lights.
Why Our L810LEDNV is Better
• Direct replacement for existing incandescent light
• Lasts up to 10 times longer than an incandescent light
• Uses 96% less power than an incandescent light
• Night Vision Goggle & NVIS Compatible
• No regular maintenance
• Available in single and dual configurations with bottom or side conduit outlets
• Can be operated in steady-burning or flashing mode (controller not supplied)
• Photocell option for automatic activation at night
• Self-contained wiring compartment eliminates additional boxes
• Weather/corrosion resistant
• IP67 Ingress Protection rating for dust and water
• Lens made from durable, UV-stabilized LEXAN polycarbonate
• Resistant to shock and vibration
• Operates from -67°F to 131°F (-55°C to +55°C)
• 5 year warranty
Specifications
• Construction: Machined aluminum, stainless steel hardware
• Finish: Red powder coat
• Power Consumption: 3.4W (DC); 4W (AC)
• Power Source: 100-277 VAC, 12-48 VDC
• Intensity: 32.5 candelas ("100 candelas" option available)
• Light Output Wavelength: Red 615 nm, Infrared (IR) 860 nm
• Dimensions: 5.65″ dia. x 7.75″ height (single)
• Weight: 3.2 lb. (single); 7 lb. (double)
• LED Estimated Lifetime: 70,000+ hours
• IP Rating: IP67
• Wind Loading: Effective Projected Area of the L-810 with single mounting base is 23.125 square-inches
---
Marine Treated Option
• Recommended for harsh, high-salt coastal and marine environments.
• Protects fixture finish from salt damage and prevents corrosion.
• 3-Step Powder Coat: 1) Primer, 2) Epoxy powder base coat and glossy polyester gray (RAL 7030) powder finish coat, 3) Oven curing.
---
Obstruction Lighting Controls
Lighting controls are designed for use when multiple obstruction light fixtures are to be controlled with common electronics. The electronic control module comes in a cast iron device box with threaded hubs on both top and bottom. Replacement modules (controls without device box) are also available upon request.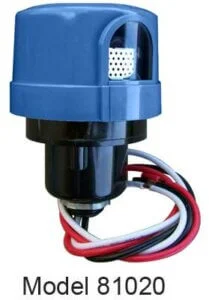 Photocells
Model 81020: 105-305VAC, 1000W photocell. FAA style photocells activate at 35 ft-cd and turn off at 52 ft-cd. Instant ON photocell has 3-5 second time delay that prevents activation and de-activation from momentary light conditions. Does not come with device box, includes 1/2″ threaded male fitting.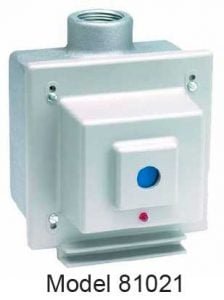 Model 81021: 120/240VAC, 4800W photocell. Meets FAA/FCC requirements for obstruction lighting. Energized at 35 ft-cd and de-energized at 60 ft-cd. Time delay eliminates contact chatter. Contains dual 20A load contacts. Front plastic housing mounts to cast aluminum junction box (included).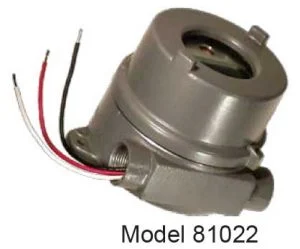 Model 81022: Hazardous Location Photocontrol Unit. Outdoor lighting control for exterior lighting in hazardous locations: explosion proof, dust-ignition proof, and weatherproof. Nominal Voltage 50/60 Hz: 120/208/240/277VAC. Voltage Range: 105-305. Housing: sand cast copper-free aluminum – epoxy powder coated.
Photocell Ordering Codes
| Part Number | Description |
| --- | --- |
| FL-81020 | Photocell only (105-305VAC, 1000W max) |
| FL-81021 | Photocell with aluminum box (120VAC, 4800W max) |
| FL-81021-2 | Photocell with aluminum box (240VAC, 4800W max) |
| FL-81022 | Hazardous Location Photocontrol Unit (120/208/240/277VAC) |
---
Farlight obstruction lights are now manufactured by Flight Light Inc.