This product is available in our webstore – Shop Now

Compliance and Applications
Certified to FAA AC 150/5345-42 (Current Revision) L-868 Class 1A; Size: A=8″, Size: B=12″, Size: C=15″
Our FAA approved, load bearing light bases are designed for locations which experience aircraft and other heavy vehicular loading. The base typically supports an in-pavement light fixture and houses a powering isolation transformer. It can also be used solely as a junction box or transformer housing.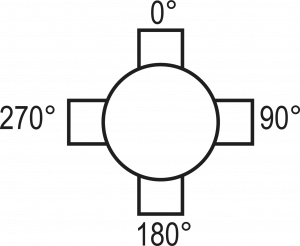 Specifications
• Steel construction with hot dip galvanized finish
• Galvanized to ASTM-A123/A123M-02
• Mounting holes:
– Size: A: (4) 3/8-16 holes at 60°, 120°, 240°, 300°
– Size: B, C: (12) 3/8″-16 equally spaced, tapped holes are located over conduit openings
• (6) 3/8-16 x 1″ stainless hex head cap screws
• Conduit openings (min. 2) are:
– Located 180° apart, 2.5″ up from bottom
– Various sizes and locations are available
– Protective plug installed in threaded hubs
– Flex Connex Grommets are shipped separately
• Internal/External ground straps are standard
• Diameter: A=8″ (7.25″ BC), B=12″ (11.25″ BC), C=15″ (14.25″ BC)
• Height: 24″
• 3/4″ plywood cover
Dimensions
Ordering Codes
---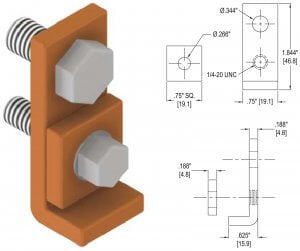 Copper Ground Clamp & Lug for Base Cans
Applications
Copper clamp for attaching copper cable to base can ground strap. Stainless steel hardware.
Specifications
• Material: copper
• Hardware:
– 5/16″-18 x 1-1/4″ SS HHCS
– 5/16″-18 SS Wiz-Lock Nut
– 1/4″-20 x 1″ SS HHCS
Ordering Codes
---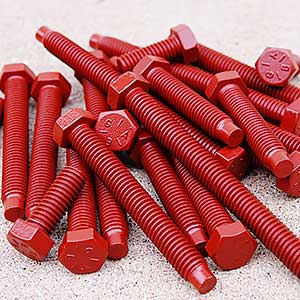 Light Base Coated Flange Bolts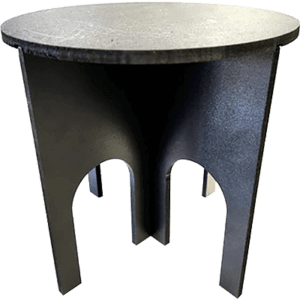 Trasta Airfield Lighting Transformer Stand