This product is available in our webstore – Shop Now

Applications
We have created the strongest and longest lasting coated flange bolts on the market. What makes us different? Our flange bolts start with Grade 5 carbon steel and are then treated with a specialized coating that provides unmatched chemical/corrosion resistance and assists in achieving higher clamping forces. Comprehensive testing concludes that our bolts show no signs of corrosion when exposed to potassium acetate and other chemicals found in de-icing solutions. Testing also revealed that after our bolts were torqued to recommended specifications, they showed little or no wear, allowing them to be reused in most cases. Most coated flange bolts on the market today must be replaced after a single use.
Ordering Codes
H53816.100: 1.0″ x 3/8″
H53816.150: 1.5″ x 3/8″
H53816.200: 2.0″ x 3/8″
H53816.250: 2.5″ x 3/8″
H53816.300: 3.0″ x 3/8″
H53816.350: 3.5″ x 3/8″
H53816.400: 4.0″ x 3/8″
4.5″ and Larger: Special Order
Fluoropolymer Coating
The coating is a resin bonded, low-friction, fluoropolymer used in high corrosion areas to lubricate and protect hardware and threaded fasteners. This coating has already been utilized in both salt water and chemical processing applications. Our bolts have undergone in-depth testing done for chemical resistance to potassium acetate as per FAA AC 42G sec. 4.1.6. The results showed absolutely no signs of corrosion.
Fluoropolymer Coating Advantages
• Chemical resistance
• Increased lubricity
• Excellent corrosion resistance
• Low break-free torque
• Ready to use, no anti-seize required
• No risk of galling
Specifications
• Grade 5 Carbon Steel
• Proof load of 111,000 psi
• Yield strength of 137,000 psi
• Tensile strength of 143,000 psi
• Achieves a higher clamping force due to a low coefficient of friction
• Meets or exceeds FAA Engineering Brief No. 83
• Complies with ASME/ANSI B 18.2.1
• Manufactured in the United States
---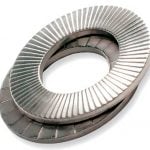 HEICO-LOCK 2-Part Stainless Steel Wedge-Lock Washer System
The Heico-Lock wedge locking system delivers high quality, anti-vibration security for the most demanding of bolted joint applications. Made of grade 316 stainless steel in 3/8″ and glued together in pairs for easy installation.