Compliance
• FAA L-863B Certified Temporary Taxiway Light (FAA L-861T compliant photometrics and chromaticity)
Applications
• Taxiway edge light.
Ordering Codes
Features
• Cost Effective
– Solar powered, no running costs.
– Low ongoing maintenance costs.
• Easy Install
– No trenching of cables.
– No mains power.
• Reliable
– No bulbs blown – ever.
– Latest LED technology.
– No moving parts.
• High Performance
– Integrate into an Avlite runway lighting system.
– Dusk-to-dawn or on demand operation.
• Optional Add Ons
– Infrared output.
– Radio control.
– Mounting solutions.
The FAA certified, self-contained solar taxiway light is a field proven alternative to wired fixtures during construction or unanticipated lighting outages. Certified to the L-863B (AC 150-5345-50B) standard, airports and engineers can fully utilize Airport Improvement Program funding for this innovative and cost-saving solution.
Available as an automatic dusk to dawn or wirelessly controlled light, the solar taxiway light system can seamlessly integrate into your existing operation. In conjunction with the Avlite AvMesh ALCMS interface, the lights can be commanded to mimic 3 or 5 step wired intensity without the need for a separate controller or command from the tower.
With upgraded high-performance solar panels and a user-replaceable NiMH battery, the lights and system can be expected to provide up to 12 years of service. Accessories include frangible mounting for concrete or grass applications, heavy duty rubber mounting tiles for temporary deployments, ALCMS wireless interface and charging stations for indoor storage.
AV-70-863/861T
The AV-70 is made from tough, durable UV stabilized LEXAN® polycarbonate, and incorporates an internal photodiode for automatic night activation once the ambient light threshold drops sufficiently.
Completely self-contained and able to be installed in minutes, the AV-70 is the preferred choice for marking of regional and mining airstrips and remote airfields globally.
Optional Radio Control
The AV-70-863/861T with RF is a radio-controlled version of the popular AV-70 series, which can be used in conjunction with a PALC, existing ALCMS or simple handheld controller. Users can wirelessly control ON/OFF functions, adjust light intensities or switch between visual and IR (tactical) operational modes if fitted.
---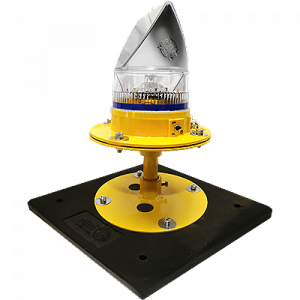 Mounting Options