This product is available in our webstore – Shop Now
Compliance
• ETL Certified L-853 Type I, Style I: FAA AC 150/5345-39D
– Taxiway Centerline
– Runway Centerline
• IP68 Ingress Protection
Applications
Solar LED Semiflush Reflective Markers are used to delineate runways, taxiways, helipads, and roadways for visual recognition.
• Airfield lighting:
– Taxiway centerline (green/green)(ETL Certified)
– Runway centerline (white/white)(ETL Certified)
– Taxiway edge (blue/blue)
– Threshold (red/green)
– Obstruction (red/blank)
• Helicopter landing pads
• Seaplane landing areas
• Fire hydrant indicators
Features
• Highly visible at night and under adverse weather conditions
• Semiflush snowplow-safe design
• Aluminum alloy fixture rated for 25 tons PSI
• High brightness LEDs (5mm diameter)
• Visible over 1/2 mile (800m) away
• Flashing or constant mode
• LEDs operate all night (dusk to dawn)
• Integrated reflective section enhances visibility
• IP68 water and dust resistant
• Maintenance free
• Designed to operate in extreme temperatures
• Easy installation with optional thermoplastic adhesive pad
Ordering Codes
Specifications
• Battery Type: Anti-heat NiMH (2.4V/600mA)
• Operating Hours: 24 to 30 hours after fully charged
• Battery Charge Time: 4 hours of sunlight
• Battery Lifespan: 3 to 5 years
• Solar Panel: Monocrystalline (4V/63mA)
• Mounting Surfaces: Asphalt, concrete, turf, or dirt
• Fixture Dimensions: 4″ x 4″ x .75″ (102 x 102 x 20mm)
---
Thermoplastic Adhesive Pad Installation Instructions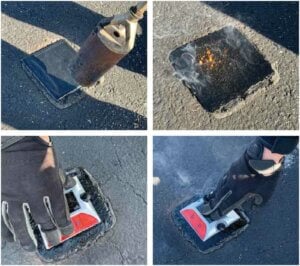 The optional adhesive pads are a non-toxic, zero VOC, performance thermoplastic adhesive designed to adhere Solar LED Semiflush Reflective Markers to concrete or asphalt.
When heated with a propane heat torch, the pad liquefies and fuses with the surface and the marker, providing a bond that will last throughout the marker's lifetime.
Number of Adhesive Pads per Fixture:
• Standard project: one pad
• FAA project: two pads
Instructions:
• Wear gloves to ensure that you do not get the heated adhesive on your skin.
• Ensure that no moisture is present prior to positioning the pad on the pavement surface.
• Position the pad.
• Heat the pad to the melting point using propane burner.
• Position the Solar LED Semiflush Reflective Marker on top of the pad (material must completely surround the marker). The pad will seep up through the two holes on both sides of the marker as an indicator that the unit is secured to the ground.
• Apply slight pressure with your gloved hand on top of the marker to make sure it is firmly seated. Do not press the marker through to the surface of the road; rather leave a cushion of adhesive pad between the marker and the road surface.