Compliance and Applications
FAA type: L-854 Radio Receiver/Decoder, Air-to-ground, Type 1, Style A
ETL Certified to: FAA AC 150/5345-49D
Our L-854 FM radio receiver/decoder is designed to provide pilots direct, unassisted air-to-ground control of airfield lighting systems. This field tunable radio allows pilots to activate airfield lighting with a series of 3, 5, or 7 microphone clicks in a 5 second period. An integrated selectable timer shuts airfield lights off after 1, 15, 30, or 60 minutes of illumination.
Our L-854 receiver is particularly useful for small to mid-sized airfields where continuous nighttime illumination is unnecessary and expensive. The unit is a virtual necessity for remote sites where the volume of air traffic or the availability of qualified on-site control personnel may be limited. Our rugged, solid state design will provide years of service and is the perfect replacement for aging "crystal" based units.
Features
• 100% field tunable within the 118-136MHz airband. Chart of Valid FAA Frequencies.
• Relay bank operation is easily selectable from front panel.
• Operate indoors or outdoors, temperature range -55°C to +55°C.
• Standard long life mechanical relays ensure compatibility with your equipment.
• Our solid state receiver design makes for extremely low power consumption.
• Standard construction features a rugged NEMA 4/12 enclosure. Custom cabinets are available.
• Custom designs are available for OEM integration, solar deployment, mobile operation and heliport control. Ask our engineers to build your exact model needs.
• Capable of a wide range of operating voltages from 100-240VAC, 50 or 60 Hz.
Ordering Codes
Airport Product Code
Voltage
47-RDL854-1A
-0: 120 VAC
-1: 230 VAC
-2: 24 VDC
-3: Spcl
Installation
• Comes with a heavy-duty dipole antenna and lightning arrestor.
• Front panel cage clamp terminals are contractor friendly and make installations a breeze.
• Deployment is as easy as hanging the unit, providing a radio power source, wiring control power inputs and outputs and mounting the antenna.
• No mast or other mounting hardware is provided. L-854 Antenna Cable Kit sold separately.
---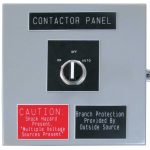 Heliport Control Box
• Quick and easy interface with L-854 radio receiver.
• Small size, NEMA 4/12 enclosure.
• Works with either 120VAC or 230VAC.
• Power out to your loads is switched by a 30 Amp, 2 pole, mechanical contactor.
• P/N: 47-RDL30AHP2-1
---
L-854 Antenna Cable Kit
• 25′ of coax cable with connectors (UHF/BNC).
• P/N: 47-L854ACK-25