Compliance and Applications
FAA AC 15/5345-44 (Current Edition)
FAA Engineering Brief No. 67
Illuminated Distance Remaining Markers indicate the distance to the end of the active runway to the pilot.
Arresting Gear Markers (or Moon Board) is primarily used by the military and is used to indicate the location of the aircraft arresting cable on the runway.
Our I-Lux signs solidly and seamlessly integrate off-the-shelf parts and custom fabrication for strength and flexibility while minimizing operating costs.
Our signs are now available with long-lasting, energy-efficient LED lighting. Our LED L-858 signs consume up to 80% less power than signs using traditional lamps and up to 50% less power than other LED signs. With crisp, clean LED light and minimal bloom or ground splash, they are visually acquired more quickly and are much easier to read.
Features
• Solid, seamless construction for strength and reliable performance.
• Long-lasting, energy-efficient LEDs virtually eliminate ongoing maintenance.
• Lowest VA loads: Most efficient ETL Certified LED L-858 signs available.
• LEDs use 80% less power than traditional lamps.
• Crisp, clean light with minimal bloom or ground splash makes them easier to acquire and read.
• Quick, simple and less expensive to install.
• Bright, clear panels are highly impact resistant.
Ordering Codes
Construction
The platform for the I-Lux is a cabinet machined from solid, heavy gauge aluminum extrusion. Monolithic tops and bottoms are impervious to blowing rains, dirt, and snow because they are free of the gaps found in signs of modular construction.
The seamless panels of the I-Lux display messages without distortion. Bright and clear, I-Lux panels are up to 30 times more impact resistant than other brands.
Installations of our LED L-858 virtually eliminate ongoing maintenance. The LED light engine provides remarkable reliability, eliminating the constant re-lamping required by traditional signs. You'll spend less time driving around the airfield, reducing opportunities for incursions, and gain valuable time for more important airfield maintenance tasks.
---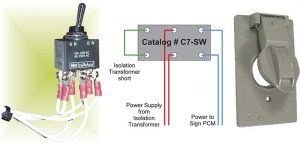 AGM Isolating Safety Switch
The AGM isolating safety switch allows the guidance sign power control and circuitry to be isolated from the airfield CCR circuit, providing a greater measure of safety when performing maintenance. This allows the rest of the airfield circuitry to remain illuminated to maintain necessary communication to pilots. The isolating safety switch is weatherproof with an IP67 rating and is also available with a weatherproof cover that provides additional protection against mechanical damage.
The switch is a DPDT (double pole double throw) style switch. Two terminals are for power to the PCM, two terminals are power from the isolation transformer, and two are the short circuit path.
Available with weatherproof toggle cover [part # C7-WPC]