Airport Lighting & Control Cable | FAA L-824 Type C | Prysmian/Draka
Compliance and Applications
FAA L-824 Type C (AC 150/5345-7F)
Airport Lighting Equipment Certification Program per AC150/5345-53 Appendix 3 Underground Electrical Cable for Airport Lighting Circuits per spec L-824 ICEA S-96-659 (NEMA WC71)
Single conductor 5000 volt nonshielded power cables suitable for L-824 underground installation for lighting at airports per FAA L-824 Type C and AC 150/5345-53 Appendix 3. They are rated for use at 90°C wet or dry conditions. FAA L-824 cables are suitable for use in conduit, duct, aerial and direct burial installations.
Ordering Codes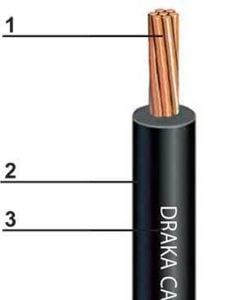 Features
1. Conductors: Soft drawn stranded bare copper per ASTM B3 and ASTM B8.
2. Insulation: Crosslinked polyethylene (XLPE) 110 mil thick in accordance with NEC 310-6a and ICEA S-96-659. An optional separator tape under the insulation eases stripping.
3. Surface Marking: The jacket surface shall be printed or indented with: DRAKA CABLETEQ USA-PA TAMAQUA CABLE (AWG SIZE) 5 KV XLP NONSHIELD NONJACKET FAA L-824 TYPE C ETL VERIFIED.