Compliance and Applications
• ICAO DOC 9157
• ICAO ANNEX 14
• FAA AC 150/5345-45C
• FAA AC 150/5345-27D
• TP312 5TH ED
We have a complete line of windsock assemblies for aviation applications at airports and heliports. Windsocks and their support structures are made from high-grade materials and designed to provide reliable performance in even the most extreme environmental conditions. All equipment is designed to internationally recognized standards and thoroughly tested to ensure quality. Custom engineering and fabrication services are available. We also manufacture windsock assemblies for industrial applications.
Windsock Assembly
1. LED Obstruction Light (optional)
• Lamp: Single lamp LED (multiple source)
• Standard: ICAO, FAA (L-810) and Transport Canada
• Power Supply: 100-240 VAC or 12 VDC
• Wattage: 1.5W
• Color: Red
2. Fabric Windsock
• Sizes: 0.45m x 1.85m, 0.45m x 2.4m, 0.6m x 2.4m, 0.9m x 3.6m
• Color: Orange, red/white (5 bands)
• Material: Polyurethane coated nylon weighing 135g/m²
• Grommets: 1/2″ brass, located at mouth for installation and underside for drainage
• Reinforcement: Double stitched; extra material on large diameter
• Fasteners: UV rated cable ties
3. Internal LED Lamp
• Qty: 2 for 100-240 VAC and 2.8-6.6 A; 1 for 12 VDC
• Total Wattage: 10W for 0.45m, 24W for 0.6m, 36W for 0.9m; 12 VDC uses 5W for 0.45m and 0.6m, 12W for 0.9m
4. Swivel
• Designs: Unlit, internally lit, and externally lit
• Material: Aluminum alloy parts, stainless steel hardware
• Rotation: 2 fully enclosed stainless steel bearings
• IP Code: IP65 rated
• Circuit: 6-circuit slipring, internal lamp and obstruction light independently wired, pre-wired
• Mount: 1-1/2″ NPT male
5. Condulet
• Material: Aluminum alloy parts, stainless steel hardware
• Wiring: Strain relief pre-installed
• Mount: 1-1/2″ NPT female top, 2″ NPT female bottom
6. Basket
• Size: 0.45m, 0.6m, and 0.9m diameter
• Material: Aluminum alloy parts, stainless steel hardware
• Color: Powder coated orange
• Shipping: Collapsible for low-cost shipping and easy assembly
7. Electrical (not shown)
• Power Supply: 100-240 VAC, 2.8-6.6 A, 12 VDC (Solar)
• Standard: CSA certification, upon request for 100-240 VAC
• Safety: External manual disconnect switch
• Junction Box: Weatherproof PVC (100-240 VAC), vented aluminum (2.8-6.6 A and 12 VDC), all pre-wired
• Wiring: 6m SJOOW cable, pre-wired
---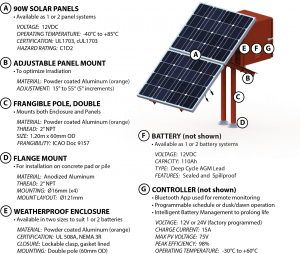 Solar Power Supply
We offer a solar power supply to go with our 12 VDC Windsock Assembly. This off-grid solution is easy to install and runs with free, renewable energy from the sun. The power supply is engineered based on site specific irradiation data and is designed to meet minimum autonomy requirements during the darkest time of year. Customers should always confirm installation location with Flight Light to ensure the power supply is properly rated.

Specifications
• Supports & Cabinet (ASTM): 6000 Series Aluminum
• Hardware (ASTM): ECO GUARD Grade 5 Steel
• Powder Coating (AAMA): Orange, RAL 2002
• Recyclable (LEED): Made from 75% recycled Aluminum
• Warranty: Electrical 1 year, Structural 5 years
• Battery: 110Ah, 12VDC, Deep Cycle AGM, Sealed
• Panel: 90W, 12VDC, Class 1 Division 2
• Controller: 12VDC, 75V Max PV, 15A Charge
– Bluetooth-Enabled and Programmable via App
• Wind Load: 220km/h Peak Gust
---
Windsock Assembly Ordering Information
Pole / Mast Assembly Ordering Information